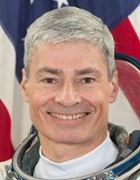 Astronaut No. 551
Astronaut USA No. 338
Vande Hei: 2nd flight (last)
Cumulative time: 168 d 5 h 14 m 56 s
(4037 h 14 m 56 s)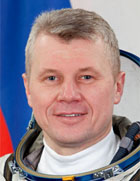 Oleg Novitskiy (Commander)

Cosmonaut No. 526
Cosmonaut Russia No. 112
Novitskiy: 3rd flight (last)
Cumulative time: 340 d 10 h 4 m 55 s
(8170 h 4 m 55 s)

Cosmonaut No. ?
Cosmonaut Russia No. 123
Kud-Sverchkov: 1st flight
Cumulative time: 0 d 0 h 0 m 0 s
(0 h 0 m 0 s)
142nd manned flight of the Soyuz. 62nd flight of the Soyuz spacecraft to the ISS. Oleg Novitskiy, Pyotr Dubrov and Mark Vande Hei joined Sergey Ryzhikov, Sergey Kud-Sverchkov and Kathleen Rubins in the 64th crew of the ISS.
The longest flight:
Jan 08, 1994 437 d 17 h 58 m 31 s (10505 h 58 m 31 s)
Valery Polyakov
The largest number of flights: 7
Jerry Ross, Franklin Chang-Diaz
The most cumulative time in space (5 flightов):
878 d 11 h 30 m 49 s (21083 h 30 m 49 s) Gennady Padalka
Astronauts and cosmonauts: 565
Astronauts USA: 346
Cosmonauts USSR/Russia: 122 /
Cosmonauts China: 11
Astronauts of the other countries: 86
Women-astronauts: 64
--------------------------------------------------
Cosmonauts Czechoslovakia: 1
Cosmonauts Poland: 1
Cosmonauts DDR: 1
Cosmonauts Bulgaria: 2
Cosmonauts Hungary: 1
Cosmonauts Vietnam: 1
Cosmonauts Cuba: 1
Cosmonauts Mongolia: 1
Cosmonauts Rumania: 1
Cosmonauts France: 10
Cosmonauts Germany: 10
Cosmonauts India: 1
Cosmonauts Canada: 10
Cosmonauts Saudi Arabia: 1
Cosmonauts Netherlands: 2
Cosmonauts Mexico: 1
Cosmonauts Syria: 1
Cosmonauts Afghanistan: 1
Cosmonauts Japan: 12
Cosmonauts Great Britain: 2
Cosmonauts Kazakhstan: 3
Cosmonauts Austria: 1
Cosmonauts Belgium: 2
Cosmonauts Switzerland: 1
Cosmonauts Italy: 7
Cosmonauts Ukraine: 1
Cosmonauts Spain: 1
Cosmonauts Slovakia: 1
Cosmonauts South Africa: 1
Cosmonauts Israel: 1
Cosmonauts Brazil: 1
Cosmonauts Sweden: 1
Cosmonauts Malaysia: 1
Cosmonauts South Korea: 1
Cosmonauts Denmark: 1
Cosmonauts UAE: 1