"Soviet Russia" January 11, 1987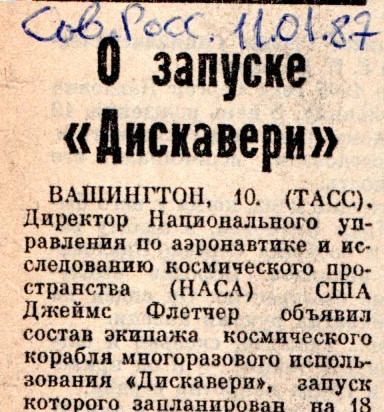 About Launching Discovery
(TASS).
WASHINGTON, 10. (TASS). James Fletcher, Director of the National Aeronautics and Space Administration (NASA), USA announced the composition of the crew of the space shuttle Discovery, which is scheduled to launch on February 18, 1988.
All astronauts preparing for the flight are veterans of space research, participants in flights on the space shuttles "Discovery" and "Atlantis": Frederick Hauck, Richard Covey, John Lounge, George Nelson and David Hilmers.
The launch of "Discovery" will be the first launch into space in the United States after the disaster on January 28 last year the Challenger and the death of 7 members of its crew.
---