---
Juri Malentschenko
Yuri Malenchenko
Юрий Маленченко
---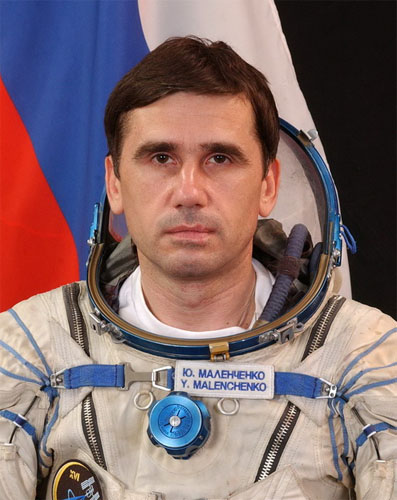 Russia
Yuri Malenchenko
(Юрий Иванович Маленченко)
(Dec 22, 1961)
Cosmonaut 308
Cosmonaut of Russia 77
EVA cosmonaut 88
EVA cosmonaut of Russia 35
Spaceflights 6
EVAs 6
Spaceflights
No.
Launch
Orbiter
Duration
1st
Jul 01, 1994
Soyuz ТМ-19 - Mir-16
125 d 22 h 53 m 36 s (3022 h 53 m 36 s)
2nd
Sep 08, 2000
Atlantis STS-106 - ISS
11 d 19 h 12 m 14 s (283 h 12 m 14 s)
3rd
Apr 26, 2003
Soyuz ТМА-02 - ISS-7
184 d 22 h 46 m 9 s (4438 h 46 m 9 s)
4th
Oct 10, 2007
Soyuz ТМА-11 - ISS-16
191 d 19 h 7 m 5 s (4603 h 7 m 5 s)
5th
Jul 15, 2012
Soyuz ТМА-05М - ISS-32/33
126 d 23 h 13 m 27 s (3047 h 13 m 27 s)
6th
Dec 15, 2015
Soyuz ТМА-19М - ISS-46/47
185 d 22 h 11 m 51 s (4462 h 11 m 51 s)
Cumulative time:
827 d 9 h 24 m 21 s (19857 h 24 m 22 s)
EVAs
No.
Date
Orbiter
Duration
1st
Sep 09, 1994
Mir
5 h 4 m
2nd
Sep 13, 1994
Mir
6 h 1 m
3rd
Sep 11, 2000
Atlantis
6 h 14 m
4th
Nov 09, 2007
ISS USA
6 h 55 m
5th
Aug 20, 2012
ISS Russia
5 h 51 m
6th
Feb 03, 2016
ISS Russia
4 h 45 m
Cumulative time:
34 h 50 m
Yuri Malenchenko, the second among Russian cosmonauts, performed six space flights. After six space flights, the total time in space of Malenchenko was more than 827 days, this is the second time, the first belongs to Gennady Padalka more than 878 days.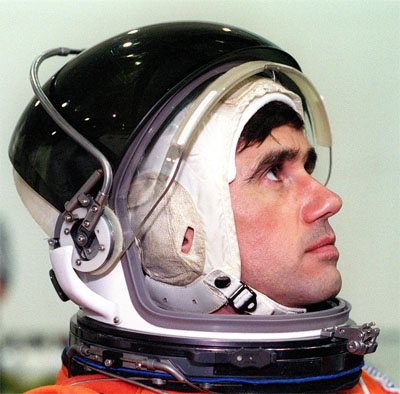 Yuri Malenchenko.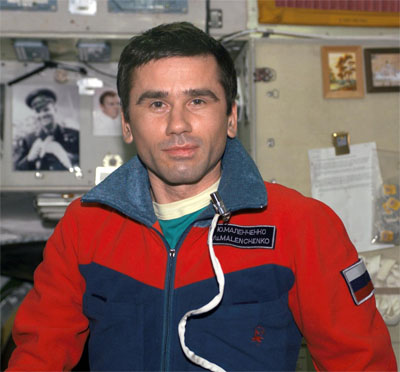 Yuri Malenchenko in Zvezda module of the ISS.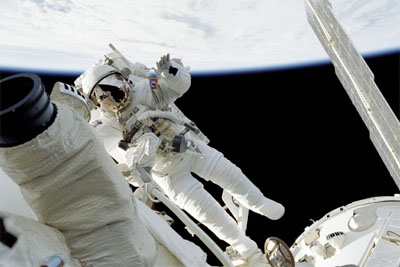 Yuri Malenchenko in outer space.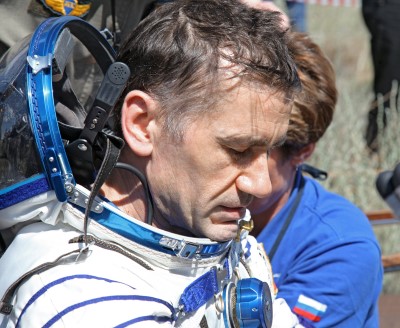 Yuri Malenchenko after landing 18.06.2016.
---

Cosmonaut of Russia 76

Cosmonaut of Russia 78

---

Astronaut 307

Astronaut 309

---


2001 Antropos.
Contact
Last update: Code: UTF-8.
Photos: NASA, Роsкоsmоs, GCTC, ТАСС, АПН, РКК Энергия
---